This past year has certainly brought us some unique challenges, but it's also introduced us to some wonderful new members who have quickly become big parts of our community here at Nebula. Take some time to get to know one of them here on the Nebula blog!
Kara Kopplin joined Nebula earlier this year. Since then we've come to know how amazing she is, but we wanted to get to know her better so we asked her to participate in a Q+A for the Nebula blog. We knew Kara had an interesting career, but we had no idea about all of the awesome projects + experiences she's had along the way. Keep reading to learn how she came to be an expert in seating and the career highlight that happened this year!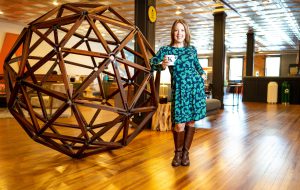 Photos of Kara courtesy of Rocking Horse Films Studio.
Could you tell us a bit about what you do? 
I work for a Swedish company called Permobil, which manufacturers high-tech wheelchairs that can stand, recline, sense obstacles, and use the "internet of things". The cushions, which help prevent deadly wounds called "pressure injuries", were developed in the 70's in Belleville, IL, and are still manufactured there today. That's where my "real" office is (but it's nowhere near as cool as Nebula!). Scroll to the bottom of the post to view some of the wheelchairs Kara has been a part of!
My role is Director of Regulatory Science, and I love the work! I have a unique understanding of the engineering principles of wheelchair seating, in a clinical context, so I support our R&D teams as they design new solutions. I'm also a frequent lecturer on these topics at scientific conferences around the world.
My favorite part of the job is the development of international test standards that use these principles to make wheelchairs safer. I chair the US committee that develops our national standards, and I take the US perspective to international meetings where global "ISO standards" are developed by the experts of the world. I'm lucky to travel internationally to participate in these UN-style meetings. It's a bonus to explore the cities, cultures, and food when I'm there. Zoom can't replace that! For the record, my favorite locations have been Nairobi, Tokyo, Helsinki, Queenstown, and London.
How did you get started in this field? 
I'm a ceramic engineer and I developed glass coatings for cast iron stove grates for an enameling company in Belleville (I thought I'd be developing space shuttle tiles, but instead I was in a hot, filthy plant) After a few years, I started my own small manufacturing shop and started consulting. The consulting took off, and I worked for years in the automotive seating industry, and then in the wheelchair cushion plant in Belleville. (I never expected to become an expert in seating) Eventually Permobil formed a research department and asked me to lead it, so I closed my company and took the job.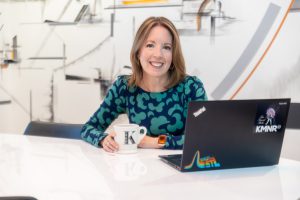 What is an exciting project or partnership you've gotten to be a part of recently? 
I partnered with researchers at universities in Israel and the US, investigating why these pressure injuries occur, and creating computer simulations of what happens to the body while sitting. Our published papers are in Google Scholar, and I'm proud to have played a role in the science. This summer, two renowned clinical organizations asked me to give presentations, so I broadcast my lectures from Nebula. Also in 2021, two of the international standards that I led were published! It took over three years and dozens of meetings around the world, pulling together experts, editing documents, researching the implications, coordinating labs and technical details, and eventually gaining global consensus. This is a career highlight for me, and it happened while I was at Nebula! 
When you aren't working, how do you enjoy spending your time?
I like long rides on my road bike, especially when I'm training for the 150 mile Bike MS ride. Yoga, jogging, and painting watercolors are favorite things to do when I have alone time. My husband and I have two boys and a boxer, so the rest of the time is pretty busy at home.
If someone at Nebula wanted to break the ice with you, what is the one topic they should bring up or question they should ask?
Music is always fun to talk about, since I had a radio show in college (KMNR in Rolla, MO). You could also ask me about the spa in Finland. But, I think Nebula attracts fascinating people, so I want to hear about what everyone else is into! It's been so great to chat in person with people again!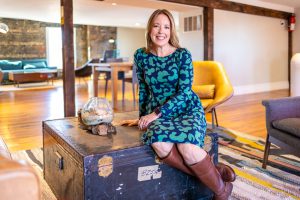 Images below courtesy of Permobil.