Nebula is home to some amazing art by local artists and we're excited to add Christopher Burch to that list! Here's a little info on the artist who is crafting our latest addition.
Christopher Burch is currently working on a mural piece in the first-floor lobby of Nebula; which you may have caught him working on if you've been working late at night or on weekends. While from St. Louis, Christopher is now based in San Francisco after attending the San Francisco Art Institute, but he still has roots in St. Louis and splits his time between the two cities.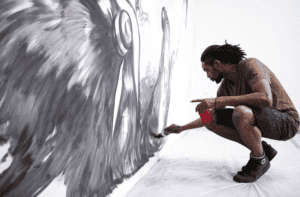 Photo courtesy of The Hundreds: Josh Sielie
He specializes in oil-based paintings that reinvent traditional stories found within folklore and mythology to fit his worldview. As told to STL Public Radio, Burch feels that "these are stories about collective human experience; and if you can tap into them, you can also understand yourself and your place in this world on a more deeper, profound level."
His process involves first drawing before painting which Burch says "allows him to explore ideas freely without worrying about a finished product and lets the idea shift and morph throughout the process." You may have noticed that our new mural only features black and white paint and this is because Burch has never considered himself a colorist; "Color has never been one of the things that my work is about. I just want to create really big, bold graphic images."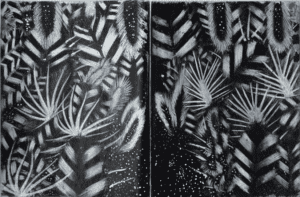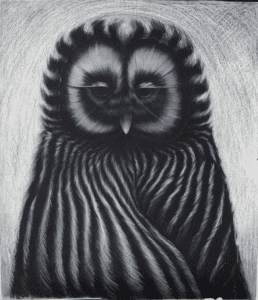 Christopher has also worked in a number of arts education roles with the following organizations in St. Louis and San Francisco: the Regional Arts Commission (RAC), Center of Creative Arts (COCA), East Oakland School for the Arts (EOSA). He is also a founding member of the The Screwed Arts Collective, a group of thinkers, visual artists, musicians, and storytellers that share a studio space on Cherokee Street.
You may recognize Christopher's work if you happened to catch his exhibition, "Born on the Nightside of the Tree" at Hoffman LaChance Contemporary throughout the month of November. View works from the exhibition here.