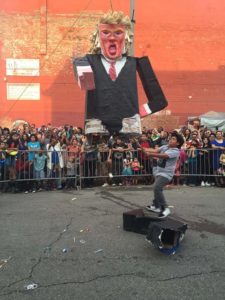 Three artists affiliated with Cherokee's beloved wine-and-pizza spot, Yaqui's, will be combining talents for a group show entitled "Public Relations." The event's set for Saturday, February 18, running from 6-10 p.m. at 2600 Cherokee; a post-reception gathering will move just down the street, to the block's newest bar (and burger spot), The B-Side.
Taking part in the show are Brennan Ponder, Francis Rodriguez and Julianne Wise. For this show, Ponder and Wise will be displaying both paintings and sculptural work, while Rodriguez will showcase his signature, hand-drawn volleyballs. Together, the three worked on the Trumpiata heads that will be displayed. Those, as many will recall, were part of three Donald Trump pinata events held outside of Yaqui's, with one of the "El Trumpo" heads slated for a collection of political art-and-ephemera at Saint Louis University; the other, they will offer for sale.
Press materials for the event state that: "Public Relations is an art exhibition exploring the role of the individual in collaborative enterprise. Artists Brennan Ponder, Francis Rodriguez and Julianne Wise display their personal studio work alongside the group performance piece El Trumpo. What role does individual expression play in public belief? Are we most accurately represented in collaboration, or in the private meanings we conjure alone?"
The large storefront space, which is available for lease via South Side Spaces, has hosted a variety of artistic and civic purposes since the departure of the last tenant.
"It's worth noting that Jason Deem's allowing us to to it there," Rodriguez says. "You couldn't go to another landlord and get the same response."
All three artists note that some of St. Louis' longer-running, artist-run galleries and DIY venues have gone away in recent months, including fort gondo for the arts, just down the block at Cherokee and Compton. This type of pop-up show, they feel, allows Cherokee Street to maintain a solid presence as a key artistic community within the region.
"Artists want to show their work," Wise says, "and to do that on Cherokee."
And, in this case, they'll be promoting some highly-politicized work. As each El Trumpo event outside of Yaqui's took place, Ponder says, "the turnout built as (his campaign) kept going. By the time of the second or third event, holy cow."
Wise adds that, "at first, it was kind of a funny thing to do, to make fun of someone who we didn't think would make it. Now, it feels more like a protest. We went down to the Women's March with these two heads and the reaction was amazing. I didn't think about (his winning) when we started making these. They were fun to make, hard to make, but now they're great protest art. And I like that idea, too."
Rodriguez figures that the work will hang for roughly three weeks after the February 16 opening, with a possible closing reception. For more information, see the event's dedicated Facebook page. Below is work from: Wise, Ponder & Rodriguez, top-to-bottom.